The television series Avenue 5 is set (during season one) in the year 2060 when space travel and cars which drive themselves have become normal every day occurrences that no longer garner the reactions they would have forty years before.
Technological Advancements
[
]
There have been many advancements in a short forty years, the primary being easy space travel.
Minor Advancements
[
]
Cars easily drive themselves long distances without any human intervention as seen in He's Only There To Stop His Skeleton Falling Over, and long range communication has been vastly improved both for ship to Earth contact and simple person to person contact. Despite this improvement the Avenue 5's comms do still get blocked when they pass Jupiter.
Mars
[
]
Spike Martin reveals that humans have visited Mars several times and even walked on it to the point that it is no longer impressive to anyone. Spike was the first Canadian to set foot on Mars, though is was not the first person; he wasn't even in the top ten.
Space Cruises
[
]
By far the most impressive and important advancement within the Avenue 5 universe is space travel. It has become easy and available to the everyday person thanks to the Judd Brand who own and operate at least five of these space cruise ships. Currently only the Avenue 3 and the Avenue 5 have been mentioned. The cruise ships give passengers an eight week voyage around the Solar System before they return to Earth. While on board the ships provide live entertainment, a spa, restaurants and bars as well as any other number of luxury attractions for both adults and children. The Avenue ships are all fully automated similar to the cars back on Earth and so a fake crew of actors is employed to provide a face and comfort for the paying passengers; Ryan Clark being chiefly among them. All of the Avenue ships are watched over from Earth by Judd Mission Control which is overseen by Mission Control Head, Rav Mulcair.
Major Events
[
]
The White House and Presidents
[
]
It's first stated in He's Only There To Stop His Skeleton Falling Over that at some unspecified time the White House was moved from it's original home on Pennsylvania Avenue in Washington D.C to somewhere in Buffalo.
While there is an unnamed human President there is also 'the other president' who is an AI on a podium kept within a building that looks suspiciously like the DMV. During Was It Your Ears? the AI President suggests to Rav Mulcair that she conceders sacrificing the five hundred NEPs aboard the Avenue 5.
Google
[
]
There have been several clear major events up to 2060 a lot of which haven't been good. In I Was Flying it is clearly stated that the technology giant Google had, at some point, crumbled. It is stated in the same episode that this was a disaster at the time and the trajectory change to the Avenue 5 is likened to it as 'the worst disaster since Google folded' by Lori Hernandez.
The Fires
[
]
During Was It Your Ears? it is revealed by Matt Spencer that he was born and raised in Pennsylvania before something he terms as 'the fires'. He doesn't go into detail about this however, theoretically, this could be linked in part to the Centralia mine fire which would still be burning in 2060; or, more likely, global warming.
Tobey Maguire's Death
[
]
Matt learns about Tobey Maguire's death after the comms come back online in Are You a Spider, Matt? after he checks his messages. He announces that Maguire had been found dead in a prison shower with his throat slit.
Prison on the Moon
[
]
It is claimed that there is a jail on the moon, however, this is said by Herman Judd, owner of the Judd Brand, and so cannot be corroborated. It is quite possible that he is correct in the matter, though it cannot be ruled out that he has gotten confused with conspiracy theories or even the Men In Black series of films. Judd also claims that someone patented the 'liquid glove' but there has been no further explanation.
Views on Sexual Relationships and Marriage
[
]
Opinions on sexual orientation and marriage appear to have significantly relaxed by 2060.
Marriage
[
]
Marriage has evolved from simply two people to three as well, as seen by Captain Ryan Clark's marriage to both a husband and a wife. Their marriage was all legally binding with part of the vows being 'hand in hand in hand'. As well as divorce for a married couple there is now also a tri-vorce for a married thrupple, Stan and Cris enact this in He's Only There To Stop His Skeleton Falling Over when they decide they no longer wish to be married to Ryan.
Sexual Orientation
[
]
Throughout the first series it is indicated that hardly an eye is batted to an individual's sexual orientation any longer and a few characters even make comments which suggest they may be bisexual; these characters being Mads and Spike Martin.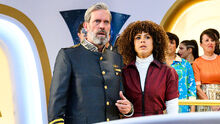 Age
[
]
As well as orientation, age gaps do not seem to pose as much of a stigma as they would have forty years previous. During the Half Way Home party Karen Kelly and Frank Kelly discus the theory that Ryan Clark and Billie McEvoy are a couple. Several comments are passed back and forth however neither ever mentions the obvious age gap of at least twenty-five years, at least not as an issue. Karen does believe Clark would be attracted to a 'more mature' woman, but this is not said negatively.