Iris Kimura is a character in the HBO television series Avenue 5, portrayed by actress Suzy Nakamura.
Kimura serves as Herman Judd's right-hand woman. She is a "fixer," focused on working out what Judd wants, even if it's unclear, while making sure his needs are fulfilled without causing anyone or anything any harm.[1]
Personality
[
]
HBO describes the character as "straight to the point, sharp and serious," with "a very particular sense of humor."[1]
Though she can come across as heartless it is indicated that Iris not just adores babies but has a good maternal steak in Was It Your Ears?
Appearance
[
]
A very strict and neat looking woman of Asian decent - probably part of Generation Alpha - who is always dressed in black business attire. She has dark brown eyes and black hair which she keeps in a tight ponytail. Iris wears little to no make up and appears very unfriendly.
Occupation
[
]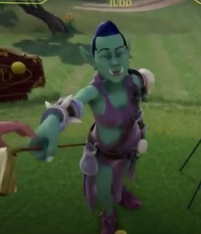 Iris is Herman Judd's personal assistant. She takes all of his random mutterings and demands then turns them into something actually usable, though a lot of the things she does are just to pacify her boss. Iris often acts as a sort of yes-man instantly changing her stance on idea she thinks are dumb if Judd approves of them. She also does damage control and cleans up after Judd. In He's Only There To Stop His Skeleton Falling Over Iris is seen following Judd through the Half Way Home party giving out vouchers and apologizing for her employer's idiocy. She also acts as his caddie in 'Judd Golf' where her avatar is a short orc-like creature.
Character Biography
[
]
Early life
[
]
She hasn't ever been especially close to anyone although did love and value her grandfather greatly. Iris says her grandfather 'got me' in And Then He's Gonna Shoot Off... and that he was the only person she felt herself with. She tells Ryan Clark about her grandfather and when he took her rowing for the first time when Iris was nine. Iris talks about how it had been peaceful to be out in nature until her grandfather had suffered a heart attack right in front of her and died. She was distraught but kept telling herself 'pull through, Iris' and rowed back to shore with her dead grandfather staring at her.
Avenue 5
[
]
As Judd's assistant she didn't really have a choice in going on the Avenue 5 cruise. She has subsequently had to keep Judd's chaotic nature as minimal as possible knowing that if he goes too far there isn't anywhere for Judd to run.
Throughout the first season Iris keeps mostly to herself both physically and emotionally, however, in Was It Your Ears? she rushes into Clark's cabin with a huge smile and seems genuinely happy to report that one of the passengers has gone into labor and there is going to be a baby. Later when announcing the baby boy's birth to the ship she, once again, is constantly smiling and happily tries to answer any questions. Despite this Karen Kelly keeps interrupting Iris and talking over her so she's beaten to the point for most details. Karen refers to this as 'Karen Mouth'
After another visit to see the little boy Iris is informed by Clark, Billie and Spike Martin that there is a possible oxygen leak and she subsequently tells Karen a few moments later. All of them end up stood in the hall with their hands over their mouths to hide what they are talking about.
She attends a meeting for the crew and passengers to talk through any issues but is surprised when Judd walks in having tied his hair partially back. She laughs randomly at one point which Clark instantly notices but she accuses him of being delirious - a reminder that they could be running out of air. Iris listens as Judd announces his plan to make a positive display of the excrement circling them. The beep sounds and Iris laughs again, Clark questions her a second time and she admits that she finds the beep funny for some reason. This angers Judd who accuses her of being a baby. They turn the conversation to conserving air, most of the solutions being rather stupid or insulting. After the meeting Iris is angry and outraged that Judd would choose Matt over her for advice and ends up talking about sedating him with the help of Clark, Karen and Billie. Before they can start plotting she and the others speak with Rav Mulcair back on Earth who informs them that they have been granted the money by both presidents to save the ship. Regrettably the connection breaks down before Rav can finish relaying everything and they are left not knowing if Rav wants the NEPs killed. Later that night Iris is seen sitting in Judd's private room while he sleeps seemingly watching over him like a sleep deprived mother would a child.
When Judd backs Ryan Clark into a corner for an intervention for Captain Clark in This Is Physically Hurting Me, Clark informs Judd that Iris was in on the idea to dose him with sedatives. She vehemently denies this, which Judd instantly believes, then attempts to shift as much blame onto Ryan and off herself. This results in Judd threatening to fire Clark and Iris realizes her mistake but her tries to quieten Judd down fail and the two men end up screaming at one another; Clark even rips off his hairpiece. When Clark storms off Judd demands that Iris gets the ship 're-captained' and since there aren't any real options she gives Spike Martin the position.
After Ryan Clark breaks everybody down into groups to search for an in hiding Matt Spencer during Eight Arms But No Hands she is sent with Karen Kelly to carry on gathering things to be tossed out the ship. The pair prove to be an effective team as they are ruthless and merciless. When Karen lies to one passenger and says she threw out Clark's rowing machine Iris questions her in an attempt to figure out whether or not Karen had been having a relationship with their captain, Karen denies it and points out that she doesn't appreciate the insinuation which Iris accepts and the pair get back to work. Together she and Karen take Judd's heavy horse statue from his cabin and drag it down the halls until they run into Rav Mulcair as she wanders the ship. She lays into Iris though this is more due to stress than anything else and demands Iris takes her to Judd.
Later when Karen has accidentally knocked them off course for a total of eight years, Iris ends up trapped aboard the shuttle with Paul and has to return to Earth.
Quotes
[
]
"We kill problems like they're babies."
"Who brings their dog to yoga?."
"He wants the menu to reflect stress eating. It's a boom time." (About Judd to Clark)
"Welcome. Not 'welcome'. Less jaunty word than 'welcome'."
"The passengers are angry, as I would be if I had their crappy lives." (Iris to Judd)
"We brought $200,000 worth of streamers. The only other use would be for your funeral." (Iris to Judd)
Trivia
[
]
Iris doesn't drink while on duty and has been seen drinking shots of water.
References
[
]
↑ 1.0 1.1 HBO. Armando Iannucci to Bring Humor to Space with 'Avenue 5' hbo.com. Retrieved on November 24, 2019.